The 12 best African teams compete in the Africa Men's Sevens tournament, the biggest Africa rugby event
The twelve best African teams (apart from South Africa) will compete for the African Champion title. In 2019 they will be joined by Côte d'Ivoire and the Democratic Republic of the Congo who have just been promoted from regional pre qualification events. The 2019 Africa Men's Sevens tournament will serve as Olympic Qualifier for Tokyo 2020. It is worth noting that should Kenya and South Africa – the two African teams competing in the Sevens World Series – finish in the top 4 of the 2018-2019 Series, they will automatically qualify for the 2020 Olympic Games. If they don't, they will have to play in the 2019 Africa Men's Sevens to earn their right to feature in the Olympic Games.
But right now, the focus is in Tunisia on the 2018 edition of the Africa Men's Sevens tournaments being the biggest African rugby event with 12 teams from all over the continent : Kenya, Uganda, Zimbabwe, Madagascar, Zambia, Tunisia, Senegal, Morocco, Botswana, Ghana, Mauritius, Namibia.
In 2017, Kenya did not take part in the annual African tournament as they had already qualified for the Sevens World Cup based on their performance in the previous World Cup. But this year, they are back in the game and as keen as ever to be crowned African Champion.
Kenya Rugby Union President, Richard Omwela, is in Tunisia to support his team and comments :
"Kenya has just concluded the 20th edition of the Stanbic Bank National Sevens Circuit which serves as the national club sevens championship and it has again proven to be as competitive as ever, Menengai Cream Homeboyz winning a second overall title in three years. It has additionally unearthed amazing talent such as Stanbic Mwamba youngsters Daniel Taabu and Ronnie Omondi, Mark Wandetto from Homeboyz to name but a few who all have been selected in a 31 man provisional Kenya Sevens squad for the 2018/19 season. We hope to see these youngsters linking up with experienced hands like Collins Injera, Andrew Amonde and Eden Agero as we plot to reclaim our Africa title and take on the world during the upcoming season."
This event is also an exciting opportunity for younger teams to assess their progress against stronger sides the likes of Kenya, Uganda or Zimbabwe.
According to Mr Herbert Mensah, President of Ghana Rugby, this will only be the second time that Ghana will take part in the Rugby Africa Men's Sevens tournament and the Union is looking forward to using the opportunity to develop its players. "Ghana is definitely still the underdog, as it was in 2017. The coaches and players have worked hard and everybody is looking forward to the opportunity to gain some much-needed match experience."
Similarly, Botswana Rugby team manager, Matthew Gibson is very excited about the upcoming tournament. "We have opted to select our younger players and looked at the youth as the future and development of 7s within Botswana. Preparations for the tournament have gone well and I know that the players are looking forward to the opportunity to show case themselves in the International arena."
The tournament is also used to build capacity with the ten best African referees – outside of South Africa – including two women gathered in a preparation camp under the guidance of Salem Attalah, former French top 14 referee and Alhambra Nievas, international referee and newly appointed referee development manager for World Rugby.
Watch Live on YouTube and on Kwese Free Sports:
Day 1: https://www.youtube.com/watch?v=vUCs3bS6-DI
Day 2: https://www.youtube.com/watch?v=q8kNBuJCy8E
Program of the tournament – Saturday 13 October, Sunday 14 October 2018 :
| | | | |
| --- | --- | --- | --- |
| Pool A | Pool B | Pool C | Pool D |
| Kenya | Uganda | Zimbabwe | Madagascar |
| Morocco | Senegal | Tunisia | Zambia |
| Botswana | Ghana | Mauritius | Namibia |
Match
Pools
Teams
Duration
KO Time
M 1
A1 vs A3
Kenya vs Botswana
22 mn
11 : 00
M 2
B1 vs B3
Uganda vs Ghana
22 mn
11 : 22
M 3
C1 vs C3
Zimbabwe vs Mauritius
22 mn
11 : 44
M 4
D1 vs D3
Madagascar vs Namibia
22 mn
12 : 06
Break 1
22 mn
12 : 28
M 5
A2 vs A3
Morocco vs Botswana
22 mn
12 : 50
M 6
B2 vs B3
Senegal vs Ghana
22 mn
13 : 12
M 7
C2 vs C3
Tunisia vs Mauritius
22 mn
13 : 34
M 8
D2 vs D3
Zambia vs Namibia
22 mn
13 : 56
Break 2
22 mn
14 : 18
M 9
A1 vs A2
Kenya vs Morocco
22 mn
14 : 40
M10
B1 vs B2
Uganda vs Senegal
22 mn
15 : 02
M11
C1 vs C2
Zimbabwe vs Tunisia
22 mn
15 : 24
M12
D1 vs D2
Madagascar vs Zambia
22 mn
15 : 46
End of the 1st day
16 : 08
– At the end of the pool stage of the first day, we establish a ranking in each pool:
– The 2 first of each pool are qualified for the ¼ finals (Plate and Cup)
– The 4 teams ranked 3rd continue the tournament for the Bowl (Rank 9 to 12).
Quarter finals (Plate – Cup)
Match
Draw
Duration
KO Time
M 13
¼ finals
   1st pool A      vs      2nd pool D
22 mn
10 : 00
M 14
   1st pool B      vs      2nd pool C
10 : 22
M 15
  1st pool C      vs      2nd  pool B
10 : 44
M 16
  1st pool D      vs      2nd  pool A
11 : 08
Bowl semi finals
Match
Equipes
Duration
KO Time
M 17
3rd pool A  vs  3rd pool D
22 mn
11 : 30
M 18
3rd pool B  vs  3rd pool C
22 mn
11 : 52
Plate semi finals
Match
Teams
Duration
KO Time
M 19
Loser M 13  vs  Loser M 16
22 mn
12 : 14
M 20
Loser M 14  vs  Loser M 15
22 mn
12 : 36
Cup semi finals
Match
Teams
Duration
KO Time
M 21
Winner M 13  vs  Winner M 16
22 mn
12 : 58
M 22
Winner M 14  vs  Winner M 15
22 mn
13 : 20
Break
22 mn
13 : 42
Ranking and Bowl Final (9th to 12th)
| | | | | |
| --- | --- | --- | --- | --- |
| Match | | Teams | Duration | KO Time |
| M 23 | 11th-12th | Loser M 17  vs  Loser M 18 | 22 mn | 14 : 02 |
| M 24 | Final Bowl | Winner M 17  vs  Winner M 18 | 22 mn | 14 : 24 |
Ranking and Plate final (5th to 8 th)
| | | | | |
| --- | --- | --- | --- | --- |
| Match | | Teams | Duration | KO Time |
| M 25 | 7th – 8th | Loser M 19  vs  Loser M 20 | 22 mn | 14 : 46 |
| M 26 | Final Plate | Winner M 19  vs  Winner M 20 | 22 mn | 15 : 08 |
Bronze final and  Cup  final (1st to 4th)
Match
Teams
Duration
KO Time
M 27
3rd – 4th
Loser M 21  vs  Loser 22
22 mn
15 : 30
M 28
Final Cup
Vainqueur M 21  vs  Vainqueur M22
22 mn
15 : 52
End of tournament
16 : 14
BreakingNews: Super Falcons win 9th AWCON
Super Falcons of Nigeria has won the 2018 African Women Cup of Nations after beating the Bayana Bayana of South Africa.
This is the ninth AWCON that the Super Falcons would be carting home.
After the final match of the continental tournament lasted into extra time, the female teams ended up playing penalty shoot-out.
Super Falcons won 4-3, after South Africa's Linda Motlhalo missed a penalty.
Just In:Nigeria Beats Libya 4-0
Odion Ighalo scores a hat-trick for Nigeria as they trounce visiting Libya national team 4-0 in an African Cup of Nations qualifier on Saturday.
The match was played at the Godswill Akpabio International Stadium in Uyo, the Akwa Ibom State capital.
Ighalo, who plies his trade with the Chinese club, Changchun Yatai, grabbed the first goal from the penalty spot after a blunder from the Libyan goalkeeper in the second minute.
In the 58th minute, Arsenal's midfielder, Alex Iwobi, delivered a lovely pass to Ighalo who maintained his composure, dribbled the goalkeeper and scored his second goal for Nigeria. He completed his hat-trick 10 minutes later after latching on a cross from Ahmed Musa.
Samuel Kalu completed the Super Eagles victory at the 91st minute.
The Super Eagles are second on the table with six points from three matches behind South Africa who are on seven
Thierry Henry: Monaco appoint former Arsenal striker as head coach
Former Arsenal striker Thierry Henry has been appointed as head coach of Monaco until June 2021.
The 41-year-old Frenchman, who had been Belgium's assistant manager, began his professional career at Monaco and helped them win Ligue 1 in 1997.
The club are third from bottom in Ligue 1 and sacked manager Leonardo Jardim on Thursday.
"It seems like fate that I will begin my managerial career here," said Henry, who is Arsenal's record goalscorer.
The former Juventus, Barcelona and New York Red Bulls player was linked with Aston Villa in recent weeks and said he received some "very attractive offers" over the last few months.
"Monaco will always be close to my heart," he added. "I'm incredibly excited to be given this opportunity but now the hard work must begin."
Monaco have won just once all season in all competitions. In Ligue 1 they have six points from nine games with five defeats and they have lost both games in the Champions League.
Henry's first game in charge will be against Strasbourg in the league on 20 October, before a Champions League tie with Club Brugge four days later.
Portuguese boss Jardim was appointed in 2014 and led the club to the French title in 2017, their first since 2000.
The 44-year-old also guided Monaco to the Champions League semi-finals in 2016-17 and helped develop players such as Paris St-Germain forward Kylian Mbappe, Atletico Madrid's Thomas Lemar, and Manchester City pair Bernardo Silva and Benjamin Mendy.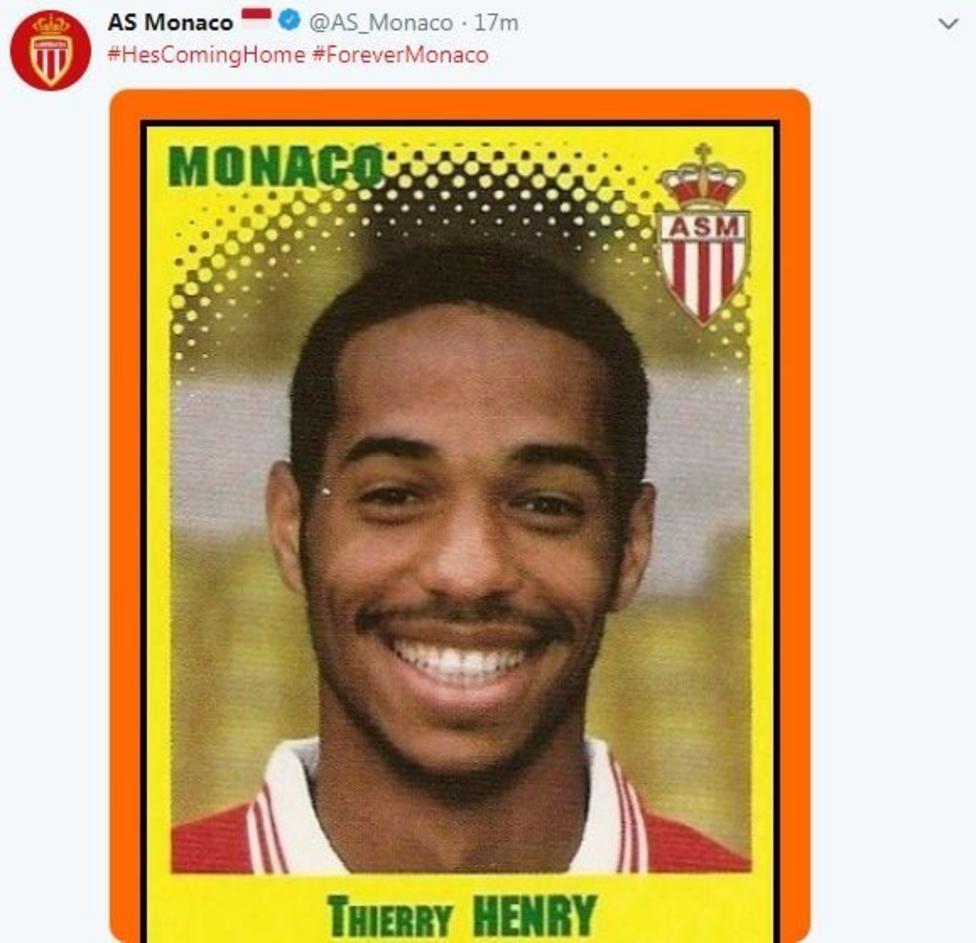 Henry was with Belgium on Friday as they beat Switzerland 2-1 in the Nations League. In July he helped the team finish third at the World Cup.
He started his career at Monaco in 1994 under former Arsenal boss Arsene Wenger, before joining Juventus in 1999.
After just one year in Italy, he signed for the Gunners and went on to win two Premier League titles and two FA Cups in eight years in north London.
Then came a move to Barcelona, where he won the treble of La Liga, Copa del Rey and Champions League in 2008-09.
In 2010 he signed for Major League Soccer side Red Bulls, where he spent five seasons and also had a two-month loan spell back at Arsenal in early 2012.
Henry was a World Cup winner with France in 1998 and won the European Championship two years later, scoring 51 goals in 123 appearances for Les Bleus.
He retired as a player in December 2014 to work as a television pundit, before joining Belgium's coaching staff in 2016.
"His knowledge of football, his passion for the game, his high standards and his commitment to our colours make his nomination a reality," Monaco chief executive Vadim Vasilyev said.
"Thierry is both aware of the task ahead and eager to start his new job. He can count on our trust and all our support to bring a new dynamic to the team and carry out its mission. "
Patrick Kwame Ampadu, a coach at Arsenal's academy and father of Chelsea and Wales player Ethan Ampadu, will join Henry's coaching staff, alongside Benfica Under-23 coach Joao Carlos Valado Tralhao.